I apologise for the delay in today's linkup. We visited my sister in law over the long weekend and only got home a little while ago. I hope everyone had a wonderful Easter?
I was a bit rushed today to get the link up up and running so for today I am going to share two tutorials from last week's link up. Remember that if you do not wish to have it shown, please contact me at marelizeries[at]gmail[dot]com.
_________________________________________________________________________________
Now its your turn to share with us what you've been busy with.
Rules:
1. Link up ANY recent blog posts, it can be one or more, but PLEASE do not share blog posts you might have linked up in the past.
2. Somewhere in your blog post, you must link back here to my blog, OR grab the 'anything goes' button for you sidebar.
3. Try to visit at least a few of the other blogs linked, the whole point of having a party is to connect, share and maybe get a few new followers...remember to leave a comment to let them know you stopped by!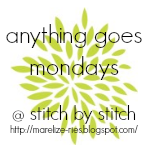 * My posts delivered to you *