For those of you that have been following along my blog and Anything Goes Mondays might have noticed that today was supposed to be a host blog post. On the 1st of each month we have a host for Anything Goes Mondays, and today it was supposed to be Jackie from
NW Patchwork
, but I was unable to get hold of her. She's not been blogging since March of this year and she has not responded to my emails. I sincerely hope all is well with her... but we will continue as before and today's linkup will resume as usual.
Anything Goes took a break for a few weeks, and during that time I made a few small changes in my sewing room. I gave my sewing room and good and proper cleaning. Dust is a big problem, especially this time of year. So I cleaned out every little corner, and that was when I decided to move my fabrics from my fabric shelf to large drawers.
I am glad I decided to place the fabrics inside these large drawers, you will not believe how much sun damage my fabrics have because of it.... not to mention the dust. It sure looked pretty on the shelf but it was NOT the best way to keep my fabrics clean and safe from damamge!
I don't have the most practical sewing room regarding storage and I have to make do with what I have, wall space is very limited so this tiny piece of wall space is all I have to personalize my room a bit.
Now it's your turn to link up...
Rules:
1. Link up ANY recent blog posts, it can be one or more, but PLEASE do not share blog posts you might have linked up in the past.
2. Somewhere in your blog post, you must link back here to my blog, OR grab the 'anything goes' button for you sidebar.
3. Try to visit at least a few of the other blogs linked, the whole point of having a party is to connect, share and maybe get a few new followers...remember to leave a comment to let them know you stopped by!
P.S. Great news for those of you on Instagram! You can now link up your Instagram photos here on Anything Goes Mondays! Just click the blue "Add your link" button. In the dialogue box that comes up, under "Image source," click the Instagram icon at the bottom. InLinkz will ask your permission to access your Instagram account, then you can choose one of your IG photos to link up. You still need to link to a URL, but you can always link to the URL of your Instagram feed (for example, my feed's URL is
http://instagram.com/marelizeries
). If you link up an IG photo, please tag my Instagram feed (@marelizeries). Have FUN!!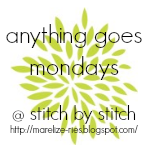 * My posts delivered to you *