Welcome to anything goes mondays.
If it is your first time visiting please know that if you want to join this link-up, anything goes... We'd all love for you to share anything you've made recently, or share what you are working on. Remember that this link-up is NOT limited to quilting, it can be anything you've made.
But before we get to that, let us look at a few of last weeks link-ups. These are chosen at random, if you do not wish to have it shown, please contact me.
___________________________________________________________________________
Lindsy over at Inspiring Creations have spent quite some time doing what most of us hate, and that was ripping out seams. She was working on this beautiful modern trees quilt and because of seams that was not lining up perfectly she had no choice but to get it right. All worth while in the end, the result is stunning.
Danielle from
Fresh off the spool
made this
exquisite
purse
as part of the palooza 2013 challenge. It is absolutely stunning, her sewing skill is
immaculate
, even more impressive is that she drafted the pattern herself.
Now its your turn to link up...
....the rules are simple:
1. Link up ANY recent post that features any quilting, sewing, knitting, crochet etc. projects. If you've made it, we'd like to see it.
2. Somewhere in your blog post, you must link back here to my blog, or grab the 'Anything Goes' button for your sidebar.
3. Please do not just link-and-run, comment on at least a few other blogs linked, the whole point of having a party is to connect, share and maybe get a few new followers...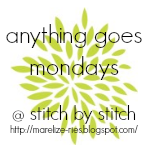 * My posts delivered to you *