Welcome to this weeks' Anything Goes Mondays, I hope you will have a lot of fun visiting all the blogs linking up this week and like what I decided to share with you here today. Remember that if you work is shown here today and you do not wish to have it featured, please contact me at marelizeries[at]gmail[dot]com.
_________________________________________________________________________________
Now it's your turn to link up...
Rules:
1. Link up ANY recent blog posts, it can be one or more, but PLEASE do not share blog posts you might have linked up in the past.
2. Somewhere in your blog post, you must link back here to my blog, OR grab the 'anything goes' button for you sidebar.
3. Try to visit at least a few of the other blogs linked, the whole point of having a party is to connect, share and maybe get a few new followers...remember to leave a comment to let them know you stopped by!
P.S. Great news for those of you on Instagram! You can now link up your Instagram photos here on Anything Goes Mondays! Just click the blue "Add your link" button. In the dialogue box that comes up, under "Image source," click the Instagram icon at the bottom. InLinkz will ask your permission to access your Instagram account, then you can choose one of your IG photos to link up. You still need to link to a URL, but you can always link to the URL of your Instagram feed (for example, my feed's URL is
http://instagram.com/marelizeries
). If you link up an IG photo, please tag my Instagram feed (@marelizeries). Have FUN!!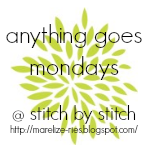 * My posts delivered to you *