I had a hectic week here at home. Unfortunately I did not get around to doing any quilting or sewing. I have been so busy sorting out cupboards and rooms in my home. The moment I started I promised myself that before I will carry on with a single stitch, that I will sort it all out first. So far so good...I would usually start and give up soon after...
At least I had some great inspiration to come back to after a hard day of work, and here are a few of last week's link ups. Remember if yours is featured here, and you do not wish to have it shown, please contact me at marelizeries[at]gmail[dot]com.
_________________________________________________________________________________
Now its your turn to share with us what you've been busy with.
Rules:
1. Link up ANY recent blog posts, it can be one or more, but PLEASE do not share blog posts you might have linked up in the past.
2. Somewhere in your blog post, you must link back here to my blog, OR grab the 'anything goes' button for you sidebar.
3. Try to visit at least a few of the other blogs linked, the whole point of having a party is to connect, share and maybe get a few new followers...remember to leave a comment to let them know you stopped by!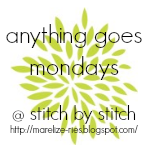 * My posts delivered to you *