Looking back at 2013 and comparing it to 2012 when I started quilting, my quilting and sewing skills have improved immensely. I learned so many free motion quilting designs, I got a lot more confident and I allowed myself to explore with what I could do. I have created a few collages of some or rather MOST of the projects I have made this past year. Most are completed and some are still a work in progress, but mostly I am surprised at the amount I got done. I am not going to go into too much detail of each of them, but I have included links to the blog posts if you'd like to read more about them. Some did not make its way here, but I hope you enjoy seeing a few of my favorites. I've grouped them into quilts, bags, crochet projects, mini quilts and fabric postcards...oh and some of my handmade Christmas gifts too.
Fabric Postcards as part of a world wide swap on Facebook.
Handmade Christmas gifts, the book cover tutorial can be found
here
.
This past year I enrolled to quite a few BOM's, and quilt alongs, but for some reason I was just not as committed I thought would be, I quickly lost interest and strangely it was not as much fun as I thought it would be. Sure I would still like to finish what I've started, but I decided to not take it too seriously.
As for 2014, I will go with the flow. I have only one goal set out, and that is to design and write my own quilt patterns. If I only do ONE for the year, I will be happy. The idea is to have fun with it , so we'll see...
Thanks to each and everyone of you for following along this past year, I hope you will visit regularly. It is going to be a great one, I know it!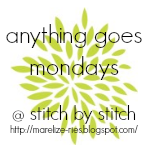 A little reminder, my
anything goes mondays
linky party will resume on Monday 6 January 2014. Hope to see you then. Happy new year!!!
* My posts delivered to you *